Early Pictures of Harrow Weald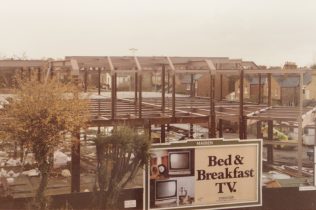 A collection of pictures showing the branch as it was being built, along with some pictures from the first day of trade.
In the collection of photos we have a picture of the first customer, who brought a chair with him to sit outside awaiting our grand opening (note the branch's original opening hours).
The full original checkout line-up is headed by Mrs Aruna Shah, still working at the branch in 2014, now joined by her husband and son. The gentleman in the foreground of this photo was the first of many Branch Managers, Mr Steve Shore.
The Fish Counter photograph shows Mrs Karen Godman who, after transferring to Waitrose Northwood, returned to Harrow Weald as Customer Service Manager in 2012.
A seemingly original 'paper' bag, one of a case found by Mrs Helen Guerin, Community Matters Champion, in 2014, at the local scout hut, presumable donated for their fundraising activities some time ago.