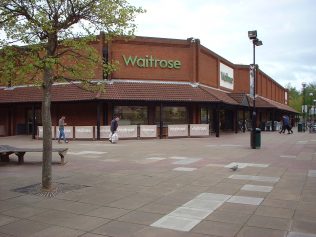 The area was well known for it's strawberry growing industry going back to the Enclosure Acts of 1866 which allowed common land to be split up into plots for that purpose.
Railway sidings at the nearby Swanwick station were packed with wagons waiting to ship the strawberries far and wide.
There are many references to the strawberry fields eg house names and the local pub has recently been renamed 'Strawberry Fields' as well as a new housing development nearby.
The Locks Heath Shopping Centre was originally opened in 1983.
During 2013 there were a number of public exhibitions regarding the future development of the Locks Heath Shopping Centre (now called 'the Locks Heath Shopping Village').
Amongst the wide ranging proposals was one that would demolish the existing Co-op building to make way for a larger parking area with a new competitor's supermarket built behind the Co-op site.
During one of the exhibitions, staff from the competitor were on hand to answer questions.
It therefore came as a surprise when it was announced that Waitrose would be taking over the Co-op in early 2014.
Waitrose arrival has prompted the landlords to re-open a closed section of car park to cope with the additional traffic. This area was originally destined to be a fast food outlet which seems to have lapsed.
I've a very loose connection with the Co-op going back 50 years to when I started work as a 'Saturday boy' with a company called Fine Fare in a converted cinema in Hayes, Kent.
To cut a long story short Fine Fare was eventually absorbed into the Dee Corporation which also swallowed up Pricerite, MacFisheries and Liptons, to name but a few.
The Dee Corporation later became Somerfield which in turn was purchased by the Co-op.
Having begun full time work for Waitrose in 1965 needing a bus, train and tube to get to Gloucester Road, it's ironic that I've now got a Waitrose totem sign directly opposite our bedroom window !
The attached photos are a small selection of before and after which demonstrates how the interior of the building has changed.