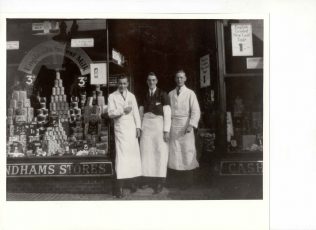 John Lewis Partnership archives
John Lewis Partnership archives
John Lewis Partnership archives
Mr Tickner joined Waitrose on 23rd January 1928. He recalled being interviewed at the main store and headquarters in Gloucester Road, in a sparsely furnished office with a bucket in one corner under a dripping burst pipe and a large man behind an equally large desk, Mr W W Waite.
Mr Tickner was offered a three year apprenticeship starting at the princely sum of 22 shillings a week. It was very hard work as in addition to a full day in the shop there were three mornings a week at the local college, plus two mornings a week starting at six at Smithfield meat market. He was told then that "your duties to commence with will be to learn thoroughly the processing of poulty, game, making of sausages, cooking etc". One of the lessons learnt in those three years was the priority asset of customer service and relationship. One day I was sent out with an order for the household of a titled lady who was demanding urgent delivery. In my innocence I took the order to the front door, which was opened by the housekeeper, at the same time as her Ladyship descended the stairs. What a scene ensued. "How dare you come to my front door" she screamed, "The servants' quarters is the place for errand boys; this will be reported."
He completed his apprenticeship and became a salesman and later Acting Manager, all at the Muswell Hill branch where he worked for many years. Mr Tickner became branch manager at one of the firm's "cash and carry" shops, a Wyndham's store in Cricklewood. The weekly turnover at that time was £75.
Mr Tickner met the Founder on two occasions: the first in 1949 when, as the only member of Waitrose to have served for 21 years, he had the honour of receiving an invitation to a 21st birthday party at Odney for Spedan's daughter. A second meeting some years later, was at his own daughter's high school prize giving where Mr Lewis was a guest speaker.
Between 1943 and 1965 Mr Tickner held branch management appointments at branches such as Finchley Road, Ealing, Woodford Green and Golders Green. During his 47 years of service he when through the experience of transferring to self-service and then supermarketing.
He served on Waitrose Branch Council continuously from 1958 to 1970 and then again in 1972 and 1973-74. For the latter two years he was a distinguished President of the Waitrose Council and a Central Councillor from 1970-1975.
Mr Tickner spent his last 12 years with Waitrose at the Whetstone branch.
At his retirement party in 1975 Mr Saward, General Manager, Administration said "so evident is his never flagging enthusiasm and effort, whatever the problems or difficulties and I owe him a personal debt of gratitude for his loyalty to me". The Chairman, Mr Peter Lewis, presented Mr Tickner with the gift of a lifetime, in a visit to the Holy Land – "what an outcome from that trembling interview in 1928 at Gloucester Road."