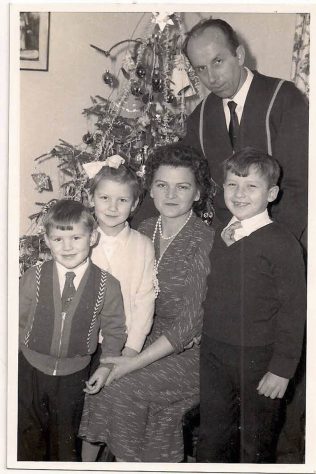 Retired Waitrose Partner Wladzia Tanska lived happily on her family farm in eastern Poland, now part of the Ukraine, until she was 10. But her world was turned upside down when Germany invaded from the west, and the Soviet Union from the east…
Through the 1940s
In February 1940 the young Wladzia Pogoda and her extended family were ordered to leave their houses at gunpoint by Soviet soldiers. In half an hour they lost everything – homes, land and, more importantly, freedom. With few possessions, they were taken to the railway station and transported in cattle wagons on a three-week journey in appalling conditions to Siberia.
After the amnesty in late 1941 they were freed, but with no money and
in extremely bad health. They were transported to Uzbekistan in wagons, a journey that took four months. Wladzia's father joined the fledgling Polish army; and, after her mother and younger sister, Irena, fell ill with typhoid, Wladzia was placed in an orphanage.
By the time she was reunited with her mother in the Middle East, her little sister had died. Although Wladzia's father was still in the army, she was at least with her mother and some other relatives. They went from country to country, camp to camp, ending up in Lebanon where Wladzia attended a Polish grammar school.
Arriving In England
In September 1948, after eight long years of leading a tough, lonely and nomadic life, and suffering much ill health, Wladzia arrived in the UK with her parents and two-year-old sister, Zosia, who had been born in Beirut. After a couple of months they were sent to a refugee camp in Hodgemoor, near Amersham in Buckinghamshire. Wladzia says, "I adapted very well to living there as to me it was just another camp. I had been in so many, and I was thinking that one day I would be returning to Poland."
Hodgemoor was an army camp with army accommodation, so there were no private facilities – only communal eating and washing areas, etc. Once all the army personnel had left, around 1949-50, the buildings were refurbished and families were allocated private areas in the cold and damp huts.
Wladzia had a very basic grasp of English when she arrived in the UK – lessons were provided initially, but trailed off as the English teachers, who were ex-soldiers, left the camp. She says, "I wanted to progress my education so I took and passed an exam in English; but, as further education would have meant attending boarding school, I did not continue as
I did not want to be parted from my parents". Soon afterwards, Wladzia went to work in a nearby factory, sewing children's clothes (following in the footsteps of her mother, who was a professional dressmaker). "The people were very kind, and it was there that I learnt the language properly. Luckily, they didn't teach me any bad language – that was left to my children!
Wladzia's future husband
Wladzia's future husband, Jan Tanski, was from western Poland, and when that area was invaded by the Germans at the beginning of the Second World War he was taken to Germany and forced to join its army. He managed to escape and was later captured by the Americans and imprisoned as a German spy. However, he was released after his Polish antecedents were checked, and he then fought with
the Allies and joined the Polish army in France. After the war he, too, arrived in the UK and went to live at Hodgemoor, where he met and married Wladzia.
Settling down
The couple had three children (two sons and a daughter) during the 10 years they lived at the camp, and when their youngest was two years old they all moved to a council house in Amersham. "This was my palace," says Wladzia.
"The children were over the moon and couldn't believe that they each had a bedroom upstairs! We had very basic furnishings – army cast-offs – and we didn't have any lino on the floors for a long time, but we were no different in that respect to a lot of Polish people
who were starting again after the war. Gradually, we managed to buy bits and pieces, everything second hand."
During this time Jan found employment at Mars. Wladzia had a few part-time jobs until she started as a full-time cashier at Waitrose Chesham, remaining with the Partnership for 23 years. Jan and Wladzia purchased their house under the 1980s 'right to buy' scheme, and Wladzia – now a widow – still lives there today.
Returning home
Wladzia was unable to return to her childhood home after the war as her part of Poland had been annexed to Russia and it would not have been safe to go back. She did, however, have the opportunity to return in 2005 when she visited her home village. Wladzia says, "Only a couple of
my relatives' homes remain, one of which
was my grandparents' house. The present occupant was very welcoming and let me go inside and move around the house, which I remembered so clearly from my childhood. It was very emotional."
Wladzia visited Poland again in 2007 and 2008, when she met relatives she had not seen for more than 60 years. "We were children when we parted but met again as great-grandparents, and we had lots of catching up to do. It was again so very emotional to see relatives and my former home. It was sad to leave and I did feel homesick, but I was happy to return to England which has been my home for over 60 years and where my children, lovely grandsons and sweet great-grandchildren were born."
This article is reproduced by kind permission of Sweet Charity, the UK confectionery
industry charity.
Connections March 2012