Retired Waitrose Partners named Diamond Champions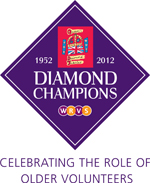 Two Waitrose retired Partners have been named WRVS Diamond Champions. Joyce Webb (Waitrose Head Office 1978) made the shortlist for the South and South-West region, while Hazel Rhoden (Waitrose Kidderminster 2003) was successful in the Midlands area.
The Queen's Diamond Jubilee
To celebrate The Queen's Diamond Jubilee, WRVS, the older people's charity and voluntary organisation, had called for nominations from around the country for Diamond Champions. Nominees had to be over 60 and have made an extraordinary difference to their community by giving up their own time to help others.
Shortlisted
Sixty entries were shortlisted for each region, and all 480 shortlisted volunteers are being presented with a specially designed Diamond Champions badge and certificate. From the shortlist, a regional judging panel will select 10 people from each region to join 70 others at a royal residence to meet The Prince of Wales and The Duchess of Cornwall, joint patrons of the initiative.
Nominated by their Area Retirement Co-ordinator
Area Retirement Co-ordinator, Bracknell, Jacky Sheppard nominated both Joyce and Hazel, and says she is "so pleased" that they have been recognised. "Joyce is now 94 and a remarkable lady," says Jacky. "She has worked as a volunteer with the Red Cross in Bracknell for the past 27 years, receiving her Long Service Badge two years ago. She still helps with the administration in the office one day a week."
Joyce…
In putting Joyce forward for the award, Jacky wrote: "She really doesn't believe that what she has been doing for the past 27 years is anything out of the ordinary and does not seek any recognition for what she has been, and is still, doing. I personally believe that her loyalty and determination to keep on helping her local Red Cross is remarkable, and I would love this to be recognised as a Diamond Champion. I am sure she would be absolutely thrilled, but no doubt would still say,'I really don't think I have done anything special'."
Hazel…
Hazel was also nominated by Jacky and subsequently shortlisted for the awards. She volunteers for several groups and charities, particularly the Royal British Legion Women's Section and as a driver for Community Transport, which helps elderly and disabled people get to the shops, hospital and medical centres when they may not have any other means. She also helps her husband Tony with his involvement in Lions Clubs International and as chairman of Carnival.
"I was totally surprised, but delighted, at being nominated for the award, especially being one of 60 out of 550 in the Midlands," she says.
From Connections November 2012