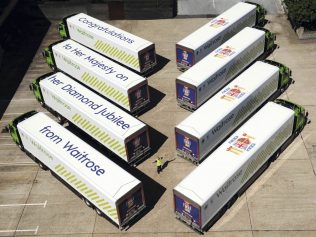 Waitrose took up one of its biggest logistical challenges last month when it delivered more than 13,000 picnics for Her Majesty The Queen's Diamond Jubilee celebrations at Buckingham Palace.
Hundreds of Supply Chain drivers volunteered for the honour, and 17 Partners were picked from a ballot. Their mission covered almost 24 hours door to door, starting in Bracknell at 3am on Monday 4 June.
"We had to get things right on two counts," says Robin McCarthy, General Manager, RDC Bracknell. "Four of the vehicles carried a message of congratulations across their roofs, so the vehicles had to stay in the correct order when they were in convoy and when they parked at the Palace so that the message made sense. We also had to have the correct picnics on the correct lorries." 
The picnics were assembled at Samworth's depot at Melton, Leicester, and the convoy left Samworth's at 7am to arrive at Constitution Hill at 9.30am. The lorries were in place at the Palace at 10.30am, ready for the picnic hampers to be distributed to the guests. 
Waitrose Partner Dave Adams, who drove the front lorry on the way to the Palace, served 22 years with the 5th Airborne Brigade. During his years in the Airborne Forces, he received a commendation in The Queen's birthday honours list in June 1982 for his service in Northern Ireland. "It was special to be involved in this event – after all, it is Her Majesty's Forces, so she was my boss for 22 years!" says Dave.
Connections July 2012