John Lewis Partnership archive collection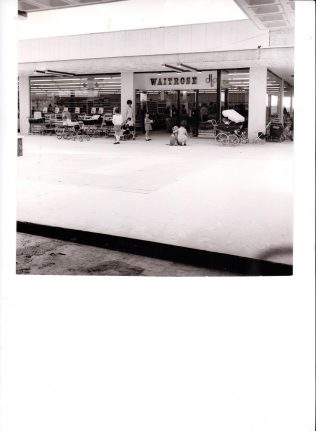 John Lewis Partnership archive collection
Shelf filling in Waitrose – "I plumped for Waitrose and telephoned Mr W Anderson, manager of the branch at Allington Park near Maidstone. Friday was the busiest day he said, and we open until eight o'clock that night. So on Friday 15th December, I arrived at 7.30 am and found several Partners already there, and the food manager, Mr Birch, painstakingly counting every loaf, bun and roll on a fleet of trolleys, which the baker had just delivered.
After a few seconds chit chat I was given a grey overall and asked to join a group of women putting the bread on the shelves. There was an awful lot of bread and I later learned that this was only the first of two deliveries.
We crammed those shelves with bread and I began to appreciate the width of the Waitrose assortment. I thought I might spend my day here and there, packing shopping baskets etc, but Mr Anderson said that, because he was short of eleven Partners out of ninety and there were only two left on the whole of the non-food section, would I help there? His brief was simple "just keep the shelves filled".
The two survivors on non-food were Mrs  M Anderson and Mrs J Wicken – and to them this unexpected visit from the Gazette was a gift from heaven. They supplied me with trolley loads of toilet rolls and man size tissues and made sure that when I had emptied one, another trolley load was waiting for me. What was happening in the rest of the store I could not say. All I saw was cartons, toilet rolls, shelves and clutching hands reaching out from behind me to take away the packets I had just put there.
You fill the shelves with toilet rolls until you can't put another packet on them or the whole lot would fall down. It is only after a couple of hours when you see your once solid wall of yellow toilet rolls needs urgent rebuilding.
You come back from coffee and fill shelves. Partnership may mean different things to different people but that afternoon all it meant to me was packets of toilet rolls, with a change every now and then to Waitrose tissues.
A few times I went down to the warehouse myself to bring up a trolley. Outside the lift at the bottom was a traffic jam of trolleys belonging to different sections and all waiting transport to the selling floor.
Mrs Anderson and Mrs Wicken are part time and finished at 5.30, so I attached myself to Mrs S A Gould of the food section. The customers surged in in even greater numbers and after a while I thought we could reasonably stop shelf filling, for the excellent reason that we couldn't get at the shelves because the queues stretching back from the checkouts were blocking them off. Mrs Gould didn't think much of that one. She showed the way with a polite "excuse me" to the customers and the queue parted like the waters of the Red Sea. Waitrose customers are an easy-going lot and display plenty of the give and take spirit.
To cut a long story short, eight o'clock came at last. Time to go home, I thought. But not so, the "way-in" doors were closed but there were still hundreds of customers in the shop and queues at all eleven checkouts. I timed the tail end of the last queue through the checkout – 8.33. And then the checkout operators collected their shopping basket and went through the one till which remained open for the purpose.
Home then? Still not yet. Waitrose Partners are gluttons for work and after the last customer had gone they took to opportunity to get down to some serious shelf-filling until nine o'clock.
Mr Anderson then told me what had been going on in the rest of the shop during the day. Over four thousand customers had gone through the checkouts. The shop had taken more money in a day than it had done in a whole week when it first opened two years ago. We calculated the weight that each cashier had lifted out of the shopping baskets and trolleys during the day. We made it five tons each, give or take a ton either way.
As I left the branch at 9.40pm with the deputy manager, Mr A T Mepham, I was never quite so aware of all my bones and muscles. I looked forward to a good lie-in the next morning. Mr Mepham was due back at Allington Park at 7am – the baker calls half an hour earlier on Saturday.