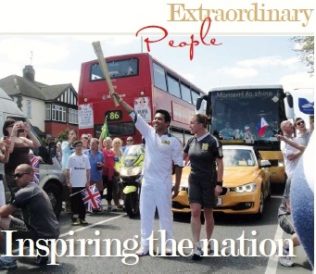 Reymund Apol Enteria, who works in the dining room at Tonbridge, has battled with poverty,  a serious illness and living away from his loved ones – but he has made it his mission in life to inspire other people after getting through the "trials of being an overseas worker".
Reymund was raised in the Phillippines by his mother and father, who worked very hard to make ends meet.  His father was a mechanic and jeepney driver (bus driver), and his mother cooked and sold her produce to earn extra money.  Reymund said: "I used to sell my mothers food on the streets and collect fares on my fathers bus".
His mother left to work overseas which gave the family a better life, but only managing to return once ever two years.  Missing the family she came home when she had enough to send the children to University.
"I studied Occupational Therapy at University, which was very expensive, but I held down three jobs at fast food restuarants to pay for it.
After graduating Reymund got a job in the UK as an Occupational Therapist at the Raphael Medical Centre.  His friends became like a second family.
He was diagnosed with pericardial effusion (fluid around the heart) and while waiting for his operation realised what it felt like to not have his family around him.  He also suffered lymph node tuberculosis.  He returned to his family in the Phillipines for 2 months rest.
On returning to England he resunmed his work at the Medical Centre, where he still works and also as a part-time cook at Tonbridge.
Taken from Chronicle:  Volume 72,  14th September 2012