History of Shelf Layouts Part 2
Merchandising Photo Library
Merchandising Photo Library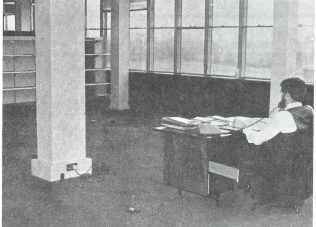 The origins of layout production was covered in Part 1 and the following takes up the history from 1977 to 1984.
I had the opportunity to come out of Branches and into Bracknell in 1977 as a vacancy had arisen in the Merchandising Department Shelf Layout section, replacing Andy Thompson, who was Assistant Manager Layouts, as he moved on to become Assistant Buyer Bakery.
Derek Strange was Manager Layouts and there was one administrative assistant 'Karen' and as I said in part 1 neither Derek nor I could remember her surname.
This was a dream move as I'd been looking to get into Merchandising for quite a while having been inspired by encounters with Eric Norwood and John Halstead but didn't have enough experience until now.
I'd been dabbling in temporary shelf layouts the  extension of the original Fleet (Branch 101 at the time) which helped a great deal with hitting the ground running but what I didn't expect was the laborious administrative process of getting layouts out to Branches in the pre-computer era as explained in Part 1.
Around 1977 a need was identified to update the ordering and supply systems away from Mark Sense cards. These cards needed the use of a 4b pencil to fill in spaces on the cards to signify how much stock was needed for delivery in a week's time. These cards were prone to errors in shading for the correct quantity and missing quantities if the shading was too light.
This system was also dependent on accurate manual stock counts and order calculation. The new system required information on unit sales and shelf capacity in order to provide basic forecasting of demand measured against unit sales and stock in hand.
One of the benefits would be an improved method of producing shelf layouts which would reflect the number of facings per product based on average unit sales and the quantity of stock to fill an average 3'6" wide x 20" deep shelf. We would no longer be dependent on the cumbersome Kalamazoo books and inserts.
The Stock Assortment and Layout document would also include a product line number, description and line status ie, live, suspended or deleted and published weekly as opposed to the '6 changes' method of publication.
Our method of layout administration would be via an MSI handset (the equipment manufacturers brand name) using various 'F document' formats (F10 to F15) to reflect line changes of position, space or replacement. However, we were still using 'educated guesses' regarding moving products around to fit in around 600 new lines annually as there were no other means improving accuracy at that time.
Existing typed shelf layouts were progressively converted to the new SAL and Branches were equipped with 'F16' documents and an MSI handset to amend facings and shelf capacity according to local conditions in their branch and in response to our published changes.
Layout reviews were a great way of re-setting the SAL's back to the master layout and although there were frequent discussions with Buyers about planned changes, their need to respond to unexpected operational issues in the supply chain unintentionally created inaccuracies in the Branch SAL's to which branches would naturally adapt facings using their F16's via the handsets.
I always enjoyed a Layout Review as it was an opportunity to bring in a '2 stock' (2 of each item within a layout) from a local Branch and set it up on our shelving at Bracknell which was on the 1st floor (of 3 at this time). It was also essential to meet the Operations Manager for that layout in a Branch to discuss any operational issues and emerging trends.
Each item then had a label attached showing its line number, average weekly rate of sale, and case quantity.
The label also showed a code which specified how many Branches could take the line based on shelf space for that layout. For simplification 'ABCD' indicated the line going to all Branches, 'BCD' lines would be added to ABCD lines for Branches with more space and so on.
The coding system could get more complicated when specific ranges were added to specific Branches across the space spectrum. For example, back in 1977 Tiptree Preserves, Twinings Teas and Bahlsen biscuits were only stocked in Branches with a 'London' style customer profile, hard to believe these days.
Wherever possible the principle of 'Vertical Blocking' was employed so that the customer could select their choice of product from within a defined product area without having to walk the fixture length to find their choice. This definition may not have been apparent to the customer but was a cornerstone of the design standards.
Once the new layout had been signed off by the Director of Buying, Central Buyer, Head of Merchandising, Manager Layouts, and the appropriate Operations Manager it was recorded and adapted for the different number of bays in branches for that Layout Group.
The F documents were completed and passed over to our Admin person for inputting into the MSI handset producing 'draft' layouts waiting to be switched over at an agreed date.
My job was also to produce hand drawn 'block diagrams' for each size of layout which were then photocopied and sent out to branches with an information pack explaining the new layout rationale.
It was also a means of publishing shelf heights for the exiting wooden shelves as well as the different types of metal shelving as they came on  board.
The most unusual block diagram was for 15 1metre bays of Canned Fruit at Weybridge split across both sides of the aisle ! This was well before the expansion of fresh food space in the early 1980's.
As the need for Fresh Food layouts, particularly Fresh Meat, grew there was a need to find a method of creating layouts without having to bring actual product samples into the office. It was not possible to have working chilled cabinets in the office so a system of scaled magnetic tiles was devised that represented the various packaging sizes and these were laid out on a magnetic board, crude but effective.
In 1981 Derek Strange moved over to Bakery Buying and I took over as Manager with Nick Jones Assistant Manager Layouts and Pat Knibbs as our Admin lady.
The system as described continued until around 1984 when the Space Management revolution arrived from America- more in Part 3.