Fair-trade fortnight is here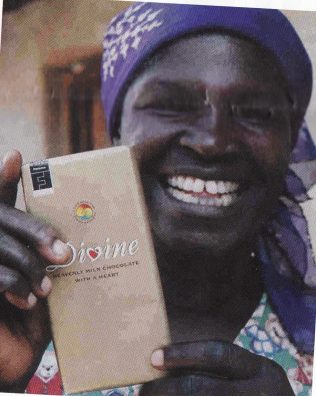 Fairtrade Fortnight 2003 started this week and runs until 16th March under the new Fairtrade mark Fairtrade's annual campaign to raise awareness of Fairtrade mark, the independent consumer guarantee,  to link UK consumers with the farmers behind many of its products involves a range of activities under this year's theme 'Trust Your Taste'.
The campaign draws attention to the alternative way of trading it uses to ensure that producers are paid fair, secure and guaranteed prices for their goods so that they can plan for a better future.  Fairtrade also pays a social premium so whole communities can benefit.
Among the many Fairtrade products available in our stores are its chocolate bars Divine and Dubble, produced by The Day Chocolate Company.  In a first for Fairtrade, the Devine and Dubble brands are part owned by the people such as Fati Issah (pictured) who grows the cocoa beans in Ghana through a co-operative called Kuapa Kokoo.  This means that the farmers have a real say in how Divine and Dubble are produced as well as a share in any profits.
Taken from Chronicle:  Volume 63,  8th February 2003