Acknowledgement to the John Lewis Partnership Archive
Acknowledgement to the John Lewis Partnership Archive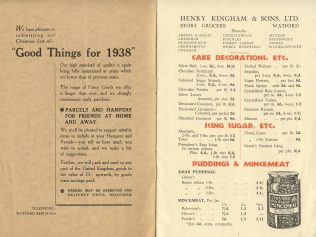 Acknowledgement to the John Lewis Partnership Archive
Henry Kingham & Son was founded c1790 by Elizabeth Kingham in a small shop in the High Street of Watford. The Partnership purchased Kinghams in January 1961 – it then consisted of a considerable wholesale food trade with two warehouses, one at Bedford and one at Watford, together with a number of retail food shops, and a bacon smoking unit on Fulham Wharf.
The chief purpose of the acquisition was to increase the volume of the Partnership's food buying and to see what were the possibilities of wholesale trading in food, of which Waitrose had no experience whatever.
The Partnership sold the main assets of Kinghams, including its name and goodwill, in 1963.