Henry Kingham and Sons Ltd
John Lewis Partnership archives
John Lewis Partnership archives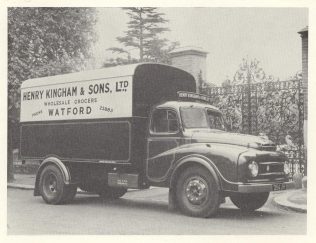 John Lewis Partnership archives
The John Lewis Partnership acquired the shares of Henry Kingham & Sons in 1960, at a cost of £750,000. This "Wholesale and Retail Grocers and Provision Merchants of Watford, Hertfordshire" could lay claim to a long history going back to 1790 when Elizabeth Kingham opened the first small shop. It began to trade as Henry Kingham around 1835, by which time Mrs Kingham had handed over the business to her eldest son Henry. The business prospered under his direction and in 1851 he bought the freehold of the original shop premises in High Street, Watford.
By the time the Partnership bought the business, it employed around 370 people working in its shops, two warehouses, transport fleet and office. About three quarters of its total trade was wholesale, and its distinctive brown and gold commercial vehicles had become a feature of the company.
Brigadier M Maunsell, then Director of Trading, (Food) told Partners in The Gazette of 7 January 1961: "The process of merging Kinghams' trade with that of Waitrose has now started, and although that must take some time before it is complete, there is no reason why benefit should not begin to be felt soon by both Waitrose and Kinghams".
The Watford and West Herts Post of 10 November 1960 when reporting on the new Kinghams distribution centre, stated that: "Henry Kinghams handle between 1,000 and 2,000 tons of food each week and therefore efficient planning and economic handling are essential factors".