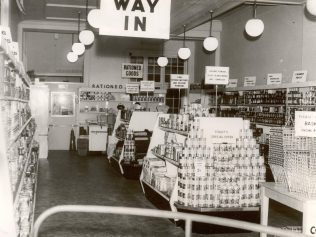 Acknowledgement to the John Lewis Partnership Archive
Acknowledgement to the John Lewis Partnership Archive
Until the 1950s virtually all shops had counter service. The customer came in, went to a counter, asked for something, chose from a selection offered by the assistant, waited for it to be wrapped and to pay. It might be necessary to queue at several different counters for different merchandise. In the right circumstances this made for pleasant leisurely shopping but it was time-consuming for staff and customer alike. It was also labour intensive and costly.
Customer expectations had changed also. People had less time to shop; more women worked outside the home and fewer had domestic help. Cars, refrigerators and freezers all played a part in the trend towards buying ready-packaged foods in more bulk, at less frequent intervals, and doing it as quickly and efficiently as possible. Self service was the logical response.
Self-service was introduced experimentally in August 1951 at Southend, converted from a Schofield and Martin branch. It was two years before the  second self service development opened at Wimbledon, in premises which had formerly been a fresh fish shop. The first self-service supermarket was opened at Streatham on 6th September 1955.