Jubilee House is officially open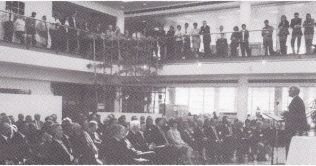 After years of planning and two years of construction and fitting out, Jubilee House, the Partnership's new state of the art IT facility in Bracknell, is open.
The building was opened by our Chairman, Sir Stuart Hampson, in front of an invited audience last Wednesday afternoon.  Other speakers on the day included Waitrose Systems Director Peter Cox and Computer Services Systems Director Eric Gregory.
The Partnership's main computer centre has been moved from Clipstone Street in London to the Bracknell site to, as Eric Gregory explained, "Improve the security and resilience of our core computing environment."
Taken from Chronicle:  Volume 61,  20 July 2002