John's Paralympic Torch Relay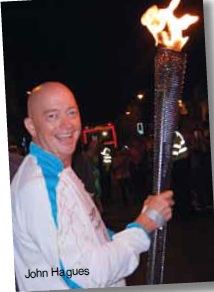 Group F Registrar John Hagues carried the London 2012 Paralympic  Torch last week, as part of the 24-hour relay to the Olympic Park in Stratford.
In the last five years John has cycled in excess of 5,000 miles to raise money for PACE, a school based in Aylesbury that supports children who need to overcome complex difficulties as a result of damage to the brain.
PACE nominated John and his small team of cyclists to carry the flame as a result of their fundraising efforts, so far raising just over £50,000 for the school.
John started supporting PACE because a friend's son Charlie started visiting the school as a baby.  Charlie is now 12 and through the support of PACE his development has been amazing.
Taken from Chronicle:  Volume 72,  7th September 2012