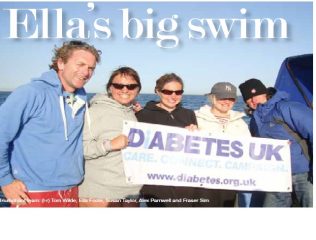 When our Deputy Editor, Ella Foote, affectionally referred to as The Chronicle's Water Baby, tackled a Channel relay lasting 16 hours and 14 minutes on 18th August, she raised £1,600 for Diabetes UK – and was lucky enough to complete to Final leg to land on French soil.
It was a sweet reward for Ella who has been getting up at 5.30 most mornings to train in Bray Lake. "When the alarm went off and I could hear the rain against the windows, the last thing I wanted to do was get up and plunge into a cold lake", she admits. "But the thought was always worse than the reality. There's something wonderful about the lake at that time in the morning".
With five other boats, Ella's team headed to Shakespeare Beach – where all channel swimmers kicked off the relay at 8.15 am on Saturday. Each swam for one hour at a time, in a specific order. "No matter how you felt when your turn came round you had to get on with it", recalls Ella.
Taken from Chronicle:  Volume 72,  31st August 2012