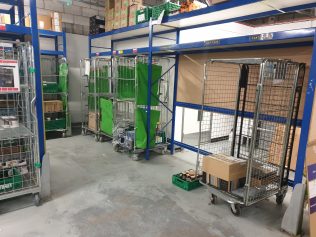 These photos of Waitrose Mountsorrel 403's empty warehouse were taken on Friday 20 March 2020 12:15 just before our second delivery of the day.
Customers have been "panic buying" even though the government has urged them not to.
Normally on a Friday  we would see 6-8 milk dollies at this point, to get us through the weekend. The milk you can see was for the coffee machine's which have been shut, it ended up being sold to partners and being used in the rest bite, for much needed tea and coffees.
The fresh rolling cages (in the chiller) would have been at least one shelf full, and the empty cage is the meat "overs" cage (stock used to replenish shopfloor when needed)
The ambient rolling cages (dry goods) are equally as empty, with barely anything on the shelving/racking either.
The shop is like peak Christmas, only busier. Customers come up to partners asking for milk flour pasta toilet rolls, we have virtually none, they walk out.
We have John Lewis staff over to help support us (JL Partners were redeployed to support the extra demand on Waitrose stores). We have almost too many staff…6 people putting out just one cage.
There is no social distancing, no masks, as these are not required of us at this time.
Three days later, On Monday 23 the government went on to announce a national lockdown.
It took the store many weeks to recover its stock levels, some of which didn't return until the summer.