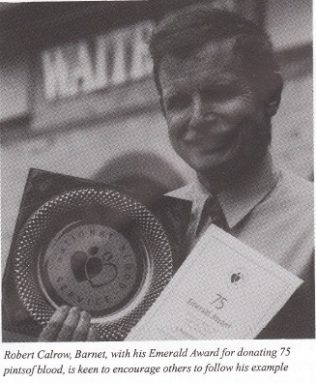 A blood donor for 29 years, Robert Calrow 51, is among the first to receive a newly created Emerald Award for people who have given 75 pints of blood.
Robert, who works on checkout and trollies at Barnet, and is also a First Aider, was proud to receive a cut glass plate in recognition of his continued support for the National Blood Service.
His long history as a donor started when he was just 22 years old.  He said: "I started in giving blood in 1973 when my late mother-in-law couldn't have a heart operation because there was not enough blood, it could have been fatal but it was not and she underwent the operation at a later date.  It made me realise that there was a need for blood donors".
Taken from Chronicle:  Volume 61,  27th April 2002