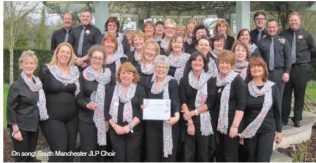 Knutsford Partners enjoy a singalong – as anyone on the early-bird shift can testify.  So when the opportunity came to join the South Manchester JLP Choir and take part in last month's Partner Sing competition at Odney, Partners Pippa Orford, Gill Dyson, Jan Beech and Molly Macavley jumped at the chance.
The weekend at Odney was filled with laughter as much as it was with singing, Gill said: "We were full of excitement and trepidation, but we came away buzzing.  We had to learn three songs in seven weeks, ready for the competition, but we did it".
South Manchester JLP Choir, which came second to The Tartan Tones, has since performed a JL at home in Chester.
Taken from Chronicle:  Volume 73,  21 June 2013