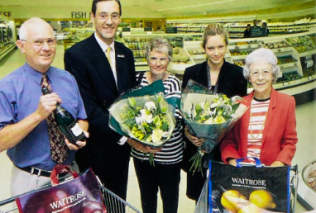 Wymondham went straight into the Waitrose charts when it opened on July 4th 2000 as one of the largest shops in the food division's portfolio.
The seventh of the eleven Somerfield conversions, it was the only one with a petrol-filling station, and one of the only two with a coffee shop.
"The new branch is situated on the edge of the Norfolk market town, serving a rural catchment area, centred on Wymondham but also including many surrounding villages." Branch Manager, Steve Dowall, commented.
As Wymondham Waitrose was a Somerfield conversion branch, many of the staff were experienced ex-Somerfield employees. Head of Selling Services, Bill Bishop said at the time, that "we couldn't have done it without them!"
The store was previously bought from Roy's of Wroxham in 1995.
The layout of 27,000 sq ft includes a fish, cheese, delicatessen, patisserie, meat, bakery and rotisserie counter.
Joan Bunn was one of the first customers through the door. "I always go to a Waitrose when I'm on holiday and I've always been shopping at Eaton. I like Waitrose products, and I think there's more variety."
Address: Norwich Rd, Wymondham NR18 0SH