John Lewis Partnership archives
John Lewis Partnership archives
John Lewis Partnership archives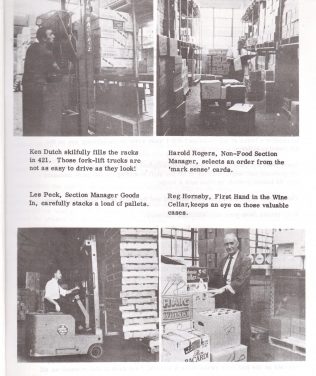 The first Waitrose head office was in Kensington, at 23 Gloucester Road, purchased in 1912. The Waite family lived above the shop. By this date there were approximately 25 shops all over London.
Due to expansion it soon became necessary to have separate warehouse and head office space. The first such building was opened at Vulcan Buildings , 3 Upper Thames Street, London EC4 in 1919, followed by Addington Square, Camberwell SE5 in 1921.
With the opening of the first supermarket at Streatham and successive supermarkets putting increasing pressure on existing stockroom space at Gloucester Road, Southend and Covent Garden, larger warehouse premises were acquired by buying a company called the Hofland Creamery. For a short time, Waitrose merchandise was transported by lorries with the name Hofland Supplies Ltd on the side.
By the time the warehouse at Greenford was acquired in 1959, there were 27 Waitrose outlets; seven supermarkets, ten self-service branches and ten surviving counter-service shops. Greenford incorporated packing units for foods like dried fruits, rice and cereals, using the self-activated spiral hoist.
The Waitrose Chronicle of 23.8.1969 featured an article on the then three warehouses at Greenford and Bert Haverson, Warehouse manager, remembered: 'We thought that the one warehouse at Greenford in 1969 was a tremendous improvement'. At that time he was Deputy Transport Manager.
Expansion was growing at a rapid pace and Waitrose was fast outgrowing its warehouses. In 1971 the move to Bracknell began. The fruit and vegetable warehouse moved from Woodley to Bracknell in June of that year and in August, management Partners took over their new headquarters. For the first time, all the central departments, apart from the main warehouse, were under one roof.