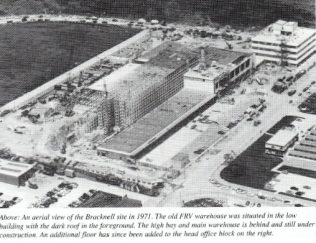 Waitrose Bracknell complex is celebrating it's 25the anniversary this year and is marking the milestone by giving the Head Office a much needed face lift.
One initial move to Bracknell was to divide into two parts with the FRV warehouse transferring here on 6th June 1971 from Woodley.  This was followed by the Head Office, which noved from Gloucester Road and Greenford on 23rd August 1971.  The Main Warehouse moved to Bracknell in the Summer of 1972.
Ian Kemp, Shift Manager, Main Warehouse, helped with the FRV warehouse move and he remembered what an improvement it was.
"Distribution used to operate in very cramped conditions and we used a tin hut in the middle of the warehouse as our office", he said, "The new warehouse was so spacious by comparison – we even had proper offices and a dining room.  We also started using computerised system instead of doing the paperwork by hand".
Taken from Chronicle